Description
BarTender Label Software NZ
LabelAn adhesive Label is consists of four layers: topcoat, facestock, adhesive, and liner that is cut into desired shapes More design and printing made simple:
No barcode label solution is complete without the right software to create, automate, and manage labels.
With BarTender®'s Labelling software from Seagull Scientific, you can maximize your printer investment with the ideal tool set for label design, printing, and management.
DOWNLOAD THE BARTENDER FEATURES CHART:
BarTender Features Starter-Pro 2021
Available in 4 versions:
What edition to you need?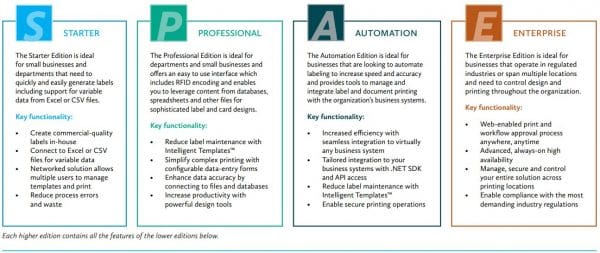 Try BarTender LabelAn adhesive Label is consists of four layers: topcoat, facestock, adhesive, and liner that is cut into desired shapes More Software for FREE with a 30-day full features trial…
Start your trial today!


When great printers leverage the power of BarTender, businesses benefit from a highly reliable labelling solution and superior printing experience. BarTender enables organisations to grow their business across the labelling lifecycle with:
Decreased costs of operation: faster implementation with fewer technical resources required .
Improved quality: easily design and manage commercial quality labels .
Reduced downtime: proven technology, reliable and robust .
Improved efficiency: flexible, adaptable integrations, easily configured to customers' existing technologies and processes .
Enabled compliance: features and capabilities to directly support customer's business requirements .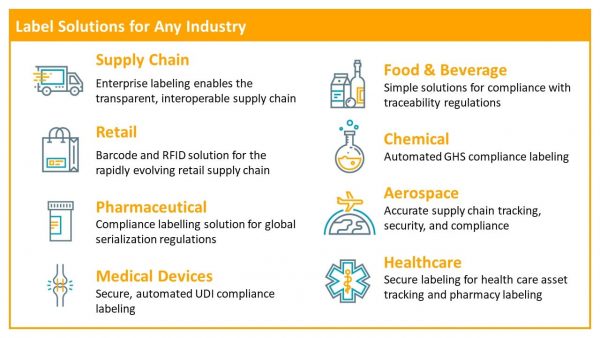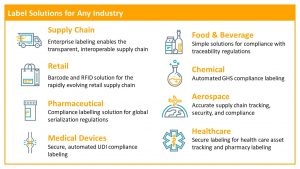 Major features:
BarTender Designer: Create easy, flexible, powerful label and document designs that reduce label maintenance and maximize printing performance.
Intelligent Templates™: Print infinite combinations of data and label designs from a single label file. Cascade changes throughout your organization in an instant to manage the shifting business and regulatory landscape.
Integration with business systems: Integrate with any ERP, WMS, MES or business system to automate label and document printing, reduce errors, and improve efficiency.
Anywhere, anytime internet printing and workflow approvals: Securely print and approve workflows from any browser on any device.
Centralized document management: Manage BarTender documents, create workflows, configure security, assign roles, capture a complete audit trail including e-signatures, track document changes, and recall previous document revisions.
Labels Software for Businesses:
Built from the ground up to support the complexities of enterprise-scale deployments.
BarTender offers the flexibility to define your labelling solution based on your needs.
More adaptable and configurable to your needs.
It's the labelling software standard for the world's most dynamic supply chains and manufacturing operations in every industry — from aerospace and automotive to chemical and pharmaceutical, from food and beverage to retail and medical devices.
BarTender provides the security, traceability, transparency, and interoperability that enable regulatory compliance and supply chain velocity.
It completely integrates with virtually any business system or WMS, including Oracle, SAP, IBM Websphere, Sage, Infor, HighJump, Epicor and Microsoft Dynamics — even "homegrown" WMSs.
And you can print from any operating system, device or web. BarTender enables verified users to choose designs, complete print-time data forms and launch print jobs to any registered printer on the internet, anywhere in the world, with just a few clicks in a browser or the BarTender Print Portal.
Its familiar user interface (UI) offers more built-in and more advanced functionality throughout the labelling process, from design, integration, automation to management.
All backed by a legendary global Technical Support team.
BarTender Annual Maintenance
Does your business rely on label printing for your products or shipping & distribution?
If so, I'm sure you want to protect your investment and ensure you minimise the risk of disruption.
An active Maintenance & Support plan gives you access to:
Free version updates
Legendary live support
Edition and printer upgrades
All new BarTender licenses include 12 months Standard Support.
DOWNLOAD SUPPORT BROCHURE: